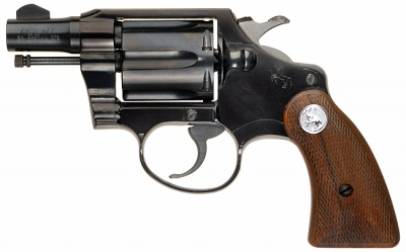 COLT AGENT
"D" FRAME
The Agent was basically the early Cobra, only made with a special short grip frame.  The Agent was intended to be a highly concealable undercover revolver with a minimal grip to aid concealment.
It was available in blue or nickel finish, and in .38 Special.  The blued guns had blued steel parts and blue-black anodized aluminum frame and cylinder crane.
In 1982 the Agent finish was changed to an unpolished flat matte black.
Barrel length was 2 inches.
Grips were checkered walnut made to slightly overlap the bottom of the short grip frame, or smooth wood.
The First Issue model
This had the same thin barrel and exposed ejector rod of the Cobra and Detective Special of that era.  It was first issued in 1955 and made until 1972.
In 1966 Colt changed all "D" frames to the same short grip frame as the Agent in order to simplify production.  After that, the Agent was the same gun as the Cobra, only with the Agent barrel stamp and using a shorter wood grip.
The Second Issue
Was made from 1973 to 1991.  This version had the new heavy, shrouded ejector rod barrel introduced in 1972 on the Detective Special and Cobra, but still used short grips.
The finish was a matte black after 1982.
Some of these Agents were shipped with Colt factory installed hammer shrouds.
POST 1972 HEAVY, SHROUDED BARREL COBRA WITH FACTORY HAMMER SHROUD
The tip of the hammer is exposed so it can be cocked