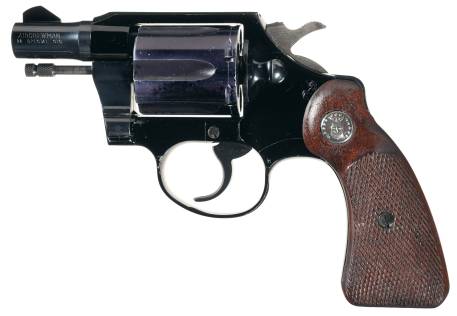 COLT U.S. AIRCREWMAN
"D" FRAME
In the early 1950's General Curtis Lemay was building the Strategic Air Command (SAC) to deliver atomic weapons in case of war with the Soviet Union.
Lemay wanted a compact, lightweight .38 Special revolver to arm the crewmen who manned the big bombers.
SAC asked both S&W and Colt to develop small revolvers with aluminum frames and cylinders to lighten the revolver as much as possible.
It's believed that a major reason for developing light weight pistols was because a heavy pistol became very dangerous during ejection from a bomber.
As ejection seats became more sophisticated and reliable, the need for special pistols ended.
Colt based their revolver on the Colt aluminum "D" frame, essentially the Colt Cobra revolver fitted with an aluminum cylinder.
The barrel was 2 inches, and the finish was blued steel and blue-black anodized aluminum parts.
Weight was 11 ounces.
The grips were unique to the Aircrewman and overlapped the frame above the grip frame similar to the S&W "Magna" type grips as used on most S&W revolvers.
The silver medallions were U.S. Air Force emblems.
Colt manufactured approximately 1,189 Aircrewman models in 1951 and possibly 1952.
Colt factory serial numbers ranged from 2,901LW to about 7,775LW.
The revolvers had "Property of U.S. Air Force" stamped on the back strap, and an Air Force issue number on the butt.
Issue numbers ran from AF No.1 through AF No.1189
It was discovered that the aluminum cylinders made by both S&W and Colt didn't stand up well to some .38 Special loads, so all revolvers were ordered to be destroyed.
It's believed that less than 25 Colt Aircrewman revolvers survived destruction, most probably kept by senior officers.
Due to the extreme rarity, Colt Aircrewman revolvers have been counterfeited.