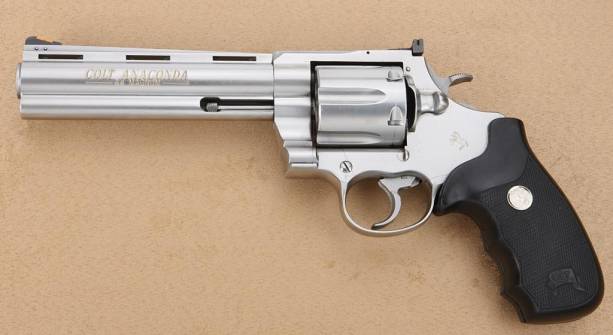 COLT ANACONDA
"MM" FRAME
In 1942 Colt discontinued it's large frame double action revolver, the New Service.
Colt would not build another large frame model until 1990, when it introduced the Colt Anaconda.
The Anaconda was a stainless steel revolver based on the proven King Cobra revolver design, using a transfer bar ignition-safety action.
The Anaconda was specifically designed for unlimited use of .44 Magnum ammo and had a massive forged frame and cylinder heat treated to provide the maximum strength.
It was chambered in the .44 Magnum, and the .45 Long Colt.
Barrel lengths were 4", 5" (Rare and not cataloged), 6", and 8". Magna-porting for the barrel was offered on some versions.
Unusually, the right side of the barrel was marked "Double Action Revolver" and the usual "Colt's P.T.F.A. Mfg Co. Hartford Conn. USA" on some models, and ".44 Magnum Cartridge" and "Colt's P.T.F.A. Mfg Co. Hartford Conn. USA", on other models.
Finishes were satin stainless matte finish, bright polish stainless on some models, and in Realtree Camouflage.
The Anaconda was produced from 1990 to 1999, then reintroduced from 2002 to 2006 as a Colt Custom Shop special order model.
VARIATIONS
Anaconda First Edition.
Made to introduce the Anaconda model.
It had an Ultimate Bright polished finish.
Marked on the barrel with "Colt Anaconda First Edition". Came in an aluminum carrying case.
Serial numbers ran from "MM00001" to "MM01000". There were 1,000 made in 1990.
Kodiak.
This was a .44 Magnum with 4" or 6" Magna-ported barrel, with non-fluted cylinder. The barrel is stamped with "Colt Kodiak .44 Magnum" and a bear paw on the left side of the barrel.
Serial numbers started with "CKA". There were about 2,000 made in 1993.
Anaconda Realtree Camouflage.
This was an Anaconda fitted with a Redfield EER 2 1/2- 7x scope, and finished in Realtree Gray camouflage finish. It came in a soft case in Realtree camo marked in yellow embroidery with "Team Colt Realtree".
It had an 8 inch barrel and was fitted with Hogue Mono-Grip rubber grips with a Serpentine Colt logo molded on the right side.
The gun, scope, and mount were finished in Realtree gray camouflage.
The barrel was marked "Colt Realtree .44 Magnum".
There were no iron sights fitted.
Made in 1996.
ANACONDA REALTREE CAMOFLAGE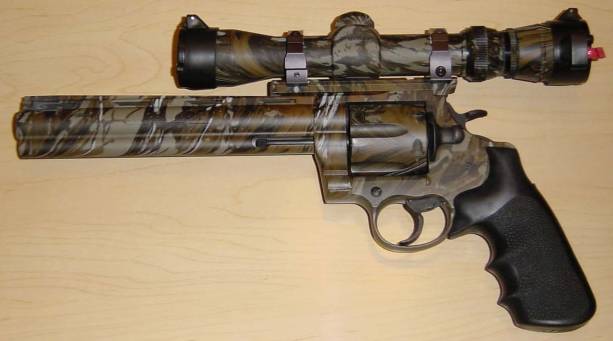 Anaconda Hunter.
This was a .44 Magnum fitted with a Leupold 2x scope, a carrying case, cleaning accessories, and both walnut and rubber grips.
Barrel was 8 inches.
Made from 1991 to 1993.
Anaconda Custom Ported.
A .44 Magnum in 6" or 8" barrels with Magna-Porting.  Fitted with Colt Ellision Target rear sight.  A custom contoured trigger, and Pachmayr rubber grips.
The finish was brushed stainless.
Made from 1992 to 1993, then reintroduced from 1995 to 1996, and again from 2002 to 2003.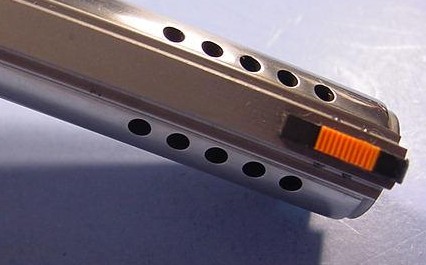 GRIPS
Colt used the same size and shape grip frame on the Trooper Mark V, the King Cobra, and the Anaconda.
All grips interchange between these models.
WALNUT TARGET GRIPS
These were used on the First Edition Model and as an option.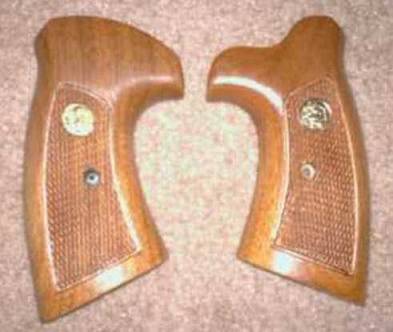 HOGUE MONO-GRIP
Colt used Hogue Mono-Grip rubber grips on some Anacondas.  These had the Serpentine Colt logo molded into the right upper side.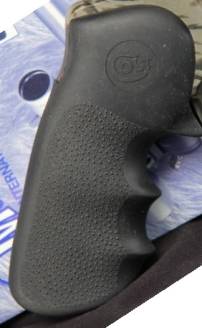 PACHMAYR "GRIPPER" RUBBER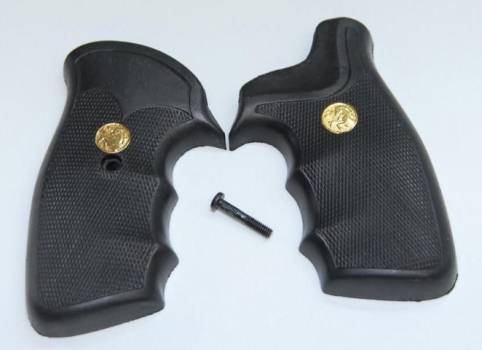 REPLICA'S OF PACHMAYR GRIPPERS MADE FOR COLT BY VINTAGE INDUSTRIES.
These had a Colt banner on the lower sides and silver Colt medallions