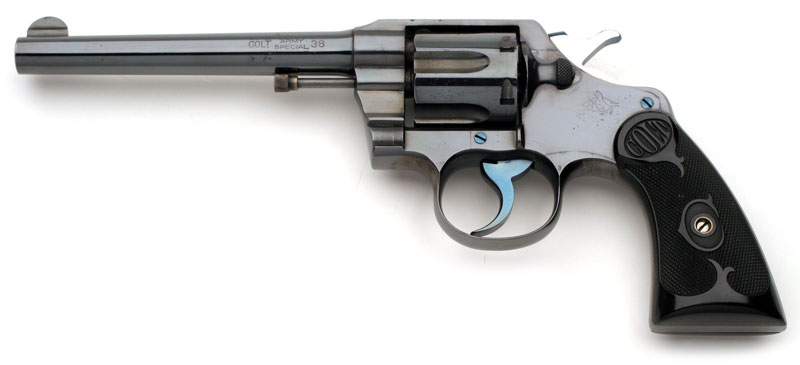 COLT ARMY SPECIAL WITH FIVE INCH BARREL
"E" FRAME
In 1908 Colt introduced a new medium frame revolver to replace the New Army & Navy models.
The new revolver used the much better action pioneered by the Colt New Pocket and New Service models.
This new model would be the basis for every medium frame double action revolver Colt produced up to the Colt Python of 1955.
The design changed so little over the years that many parts from a 1908 Army Special would interchange with a Python made in 2003.
The new revolver was designed to allow use of more powerful ammunition like the .38 Special and the .41 Colt.
It was an immediate success with police departments and under the Official Police name would be the standard police issue service revolver up into the 1960's.
The Army Special was available with blue and nickel finishes.
Barrel lengths were 4", 4 1/2", 5", and 6".
Calibers were .32-20, the various .38 Colt Long and Short cartridges, .38 Special, and .41 Colt.
Grips were black hard rubber with molded in checkering and Colt logos until 1923 when checkered walnut with silver Colt medallions became standard.
The Army Special was produced from 1908 to 1927.
In 1927, since the Army had never bought it but many police departments had, Colt simply changed the name to the Official Police and continued making it until 1969 virtually unchanged.