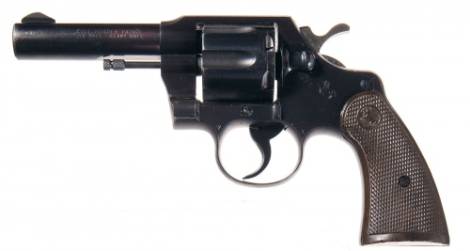 COLT BORDER PATROL, ORIGINAL MODEL
"E" FRAME
The original Colt Border Patrol was a slightly modified Colt Official Police version that was made for the US Border Patrol in 1954.
The Border Patrol was designed by famed Border Patrolmen Bill Jordan and Harlan Carter to replace the standard issue Colt New Service revolvers then still in use.
About 400 were made.
It had a very heavy untapered barrel and was fitted with "Coltwood" plastic grips.
It was chambered in .38 Special.
Due to the extreme rarity of Border Patrol revolvers in civilian hands, counterfeits have been attempted.
Several Colt Border Patrol revolvers are verified by the Colt factory to have been shipped to commercial outlets. How many Border Patrol revolvers were sold commercially is unknown but it's expected that these were extraordinarily rare.
We know that one was shipped to the Albert Steinfield Mercantile Co. in Tucson, Arizona on May 22, 1953 and a shipment of two guns was shipped to the Whitney Sporting Goods Co. in Denver, Colorado on April 9, 1953.