COLT BORDER PATROL
SECOND ISSUE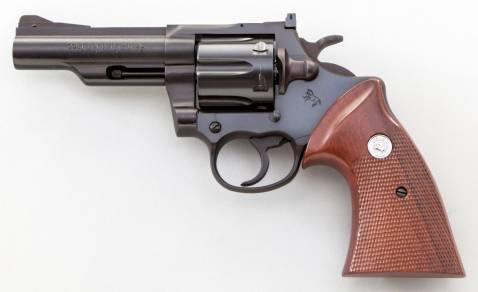 COLT SECOND ISSUE BORDER PATROL
"J" FRAME
The original Colt Border Patrol was a slightly modified Colt Official Police version that was made exclusively for the US Border Patrol in 1952.
The Second Issue Colt Border Patrol was simply the Colt Trooper Mark III with the barrel stamped "Border Patrol" and with a less polished finish.
Unlike the original Border Patrol, the Second Issue version was sold to both the US Border Patrol and as a commercial model to the public.
It was available with a 4 inch barrel and in .357 Magnum.
There were 5,356 made in blue finish, and 1,152 made in bright nickel.
The guns bought by the US Border Patrol will have USBP marks and issue numbers stamped on the right side of the frame above the trigger.
The Second Issue Border Patrol was made from 1970 to 1975.
Other than the finish there were no variations made.