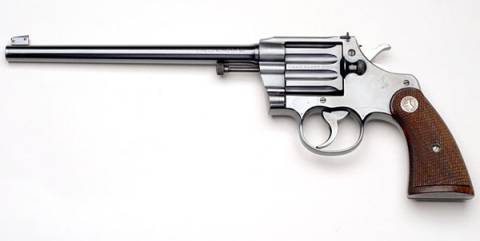 COLT CAMP PERRY TARGET PISTOL, 10 INCH BARREL
BASED ON A HEAVILY MODIFIED "E" FRAME
In 1926 Colt introduced a special one-of-a-kind target pistol based on the Colt Officer's Model Target revolver.
The Camp Perry was a double action frame fitted with a single shot flat block and barrel unit in place of the cylinder.
It was produced from 1926 to 1941, and was intended for competition use in slow fire matches where the increased accuracy of a single shot would offer an advantage.
Since the barrel and chamber were one piece, accuracy was even better than with a revolver.
Colt made 2,488 Camp Perry models.
The barrel block opened out on a crane as used in double action Colts and had an ejector rod similar to a revolver.
It was fitted with the same sights as the Officer's Model Target, using a windage adjustable rear sight and an elevation adjustable front sight.
A choice of bead or Patridge front sights was offered.
The back strap, hammer, cylinder release, and trigger were checkered.
The Camp Perry was available in blue finish, in .22LR only, and originally with a 10 inch barrel.
In 1934 the barrel was shortened to 8 inches and the action was altered to give a shorter, faster hammer fall.
THE CAMP PERRY BARREL BLOCK OPEN FOR LOADING
Note the barrel and flat block are one piece and replace the barrel and cylinder of a revolver.