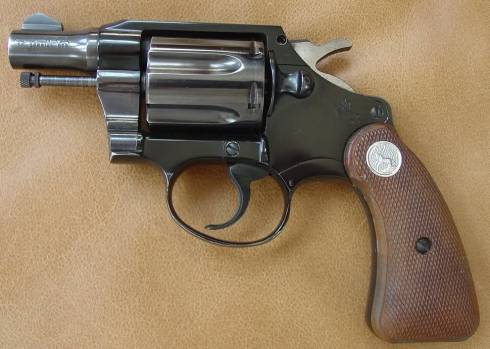 COLT 2 INCH COBRA, MID PRODUCTION
"D" FRAME
Following World War Two Colt was one of the first gun companies to begin making guns using new "Space Age" materials like aluminum.
Colt's first entry in the field was with the aluminum framed Colt Commander automatic of 1949.
Their second entry was with an aluminum frame version of the Detective Special.
Colt called this aluminum alloy "Coltalloy".
This new model was named the Colt Cobra. This was the first time Colt
named a gun after a snake, and led to a series of "Snake" named pistols made by Colt.
It was basically just the Detective Special with an aluminum frame, side plate, and cylinder crane. The barrel and all other parts were made of steel.
It was produced from 1950 to 1981.
Over the years, the Cobra was offered in barrel lengths of 2 inches, 3 inches, and 4 inches.
There were a few rare 5 inch square butt models made for the Venezuelan government.
Calibers were .38 Special, .32 New Police (.32 S&W), .38 New Police (.38 S&W), and .22LR.
Finishes were bright blued steel parts with blue-black anodized aluminum parts, or in full bright nickel.
During the big Colt strike of the 1980's, the Cobra was made in an unpolished dull black finish with smooth wood grips.
Early 4 inch guns had square butts, later changed to the same rounded butt as the 2 inch version.
Early guns had "Coltwood" plastic grips with molded in silver colored Colt medallions, later changed to plastic grips with no medallions, then to checkered Walnut with silver medallions, and finally to Combat style grips with no medallions.
As with all the "D" frame Colt revolvers, the Cobra was available on special order with the Colt hammer shroud installed.
COLT COBRA WITH 3 INCH BARREL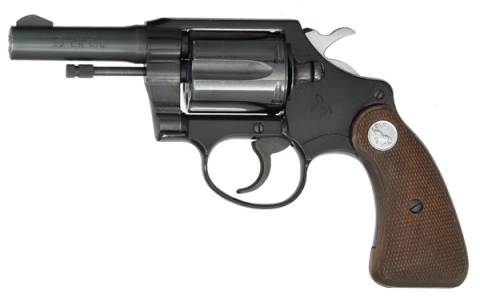 COLT COBRA 4 INCH, ROUND BUTT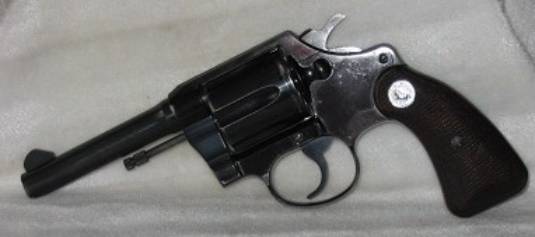 The First Issue Cobra
Made from 1950 to 1972.
Early versions had a square butt, later versions had a round butt.
In 1966 the old style long grip frame was changed to the same short grip frame as the Agent. This was to simplify production.
After this, the wood grips overlapped on the bottom of the frame to give a full size grip.
POST-1966 COBRA WITH SHORT GRIP FRAME
Note how the wood grips overlap on the bottom to give a full grip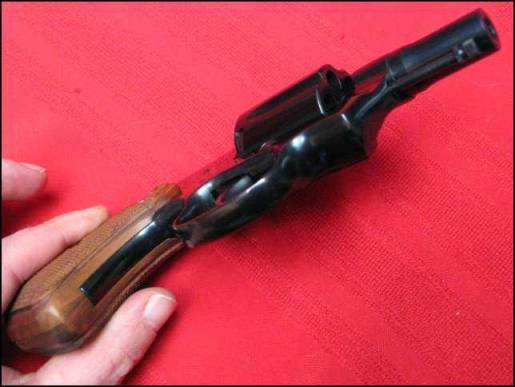 The Second Issue Cobra
Made from 1973 to 1981.
It was offered in bright blue, and bright nickel. Some Cobras may have been made with a satin Electroless nickel finish, also known as "Coltguard".
During the Colt strike, Cobras were offered with an unpolished matte black finish.
This new style Cobra had a heavy barrel that shrouded the ejector rod and a long ramp front sight.
The new design included walnut combat type grips that enclosed the front and bottom of the grip frame.
These post-1972 Cobras were the only version that Colt ever rated for use with +P ammunition.
The gun was rated for "up to" 1000 rounds of +P ammunition, at which point the gun was to be returned to Colt for inspection and possible frame replacement.
1973 HEAVY BARREL COBRA