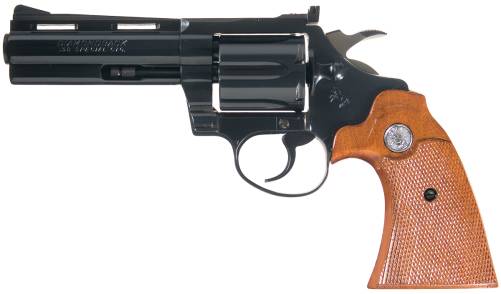 COLT DIAMONDBACK
"D" FRAME
In 1966 Colt introduced the Colt Diamondback revolver.
The Diamondback was intended to be a premium quality adjustable sighted small framed revolver that would resemble the popular Python.
The new Diamondback was built on the Colt "D" frame as used for the Detective Special, Police Positive Special, etc.
It had a wide, long, grooved Target hammer, Target type walnut grips, Colt Accro adjustable sight, and a barrel that looked like a Python barrel and was in fact built on Python machinery.
While the new Diamondback looked like a miniature Python, it isn't the same quality and wasn't fitted or finished to the same level.
The action wasn't tuned to Python standards and the blue job was not the Royal Blue as used on the Python.
The Diamondback is really a Detective Special level gun with adjustable sights and a barrel that closely resembles a Python barrel.
Production of the Diamondback was from 1966 to 1991.
The Diamondback was available in bright blue, bright nickel, and later a few in satin Electroless nickel, also known as "Coltguard".
Barrel lengths were 2 1/2 inches, 4 inches, and 6 inches.
Calibers were .22LR and .38 Special.
There is considerable disagreement about Diamondbacks in .22 Magnum.  Some sources say Colt did make a very few .Diamondbacks that were marked .22 Magnum, but these were prototype guns with a .22 Magnum marked barrel but the cylinders were chambered in .22LR.
The story is that Colt intended to offer the Diamondback in .22 Magnum, but changed their mind.  They had already made up a few barrels with .22 Magnum markings, and that these barrels were mistakenly assembled to frames with .22LR cylinders.  Possibly as many as 20 Diamondbacks with these mis-marked barrels may have been shipped by mistake.
Those guns that will chamber the .22 Magnum were apparently re-chambered by owners and are not legitimate Colt guns.
In any case, Colt factory archive data doesn't show any Colt Diamondbacks in .22 Magnum chambering ever shipped by Colt, and the Colt Archive personnel deny any were made or shipped by Colt.
The 2 1/2 inch version was fitted with Service type grips, the 4 inch and 6 inch were fitted with Target grips.
The 2 1/2 inch and 4 inch barrels have front sights that are machined as part of the barrel. The 6 inch barrel has a separate, pinned-in front sight of the same type as used on the Python, only with a single pin to retain it.
Diamondback's with bright nickel finish in .22LR with 2 1/2 inch or 6 inch barrels were limited production and are rare.  Only 2,200 6 inch nickel .22's were made.
The 2 1/2" .38 Special model was popular with many police detectives and was somewhat a "cult" item in the Los Angles Police Department.
GRIPS
During the production life of the Diamondback, Colt used Silver grip medallions on earlier production and Gold on later production.
SERVICE GRIPS AS USED ON 2 1/2 INCH MODELS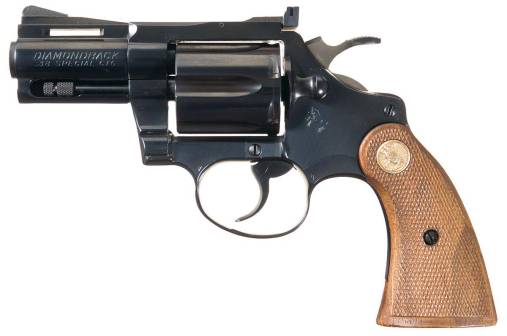 FIRST TYPE TARGET GRIPS
Note the curved checkering border below the medallions.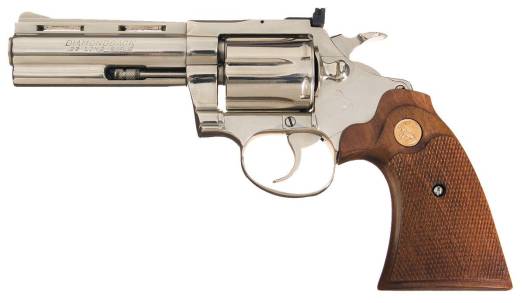 SECOND TYPE TARGET GRIPS
Note the checkering border in a slanted straight line under the medallions
and the scalloped loading cut common to Diamondback grips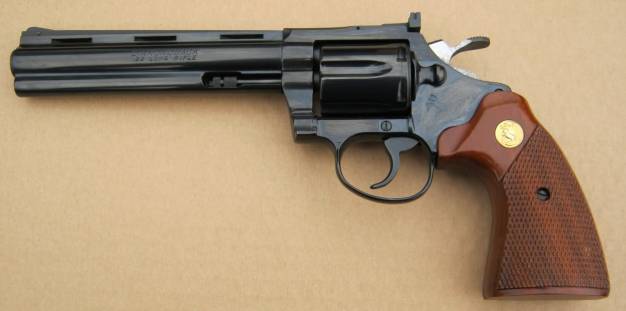 There are fake Diamondback grips being made in South Asia.
Note the brass grip screw and bushings, and the medallions that look like Colt medallions until you look closely.