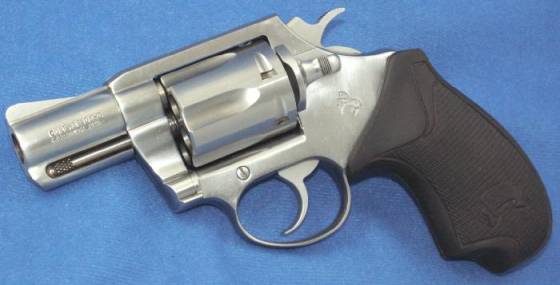 COLT DS-II
"SF" FRAME
Colt had introduced a new series of stainless steel small frame revolvers in 1995 to replace the last of the old "D" frame models.
The first in the new series was the Colt SF-VI, so named to prevent confusion with the last of the "D" frames still in the distributor's pipeline.
In 1996, with the last of the old guns out of the way, Colt changed the name of the SF-VI to the Colt DS-II.
This is taken to stand for Colt "Detective Special Two", but Colt never used that designation, so the correct model name is the DS-II.
The DS-II is built on the same "SF-VI" frame as the SF-VI model, and is in fact nothing more than the SF-VI with a new barrel stamp and a slightly thicker top strap to increase strength.
The DS-II was available with a 2 inch barrel and a very few 3 inch and 4 inch barrels.
Caliber was .38 Special and was suited for use with +P ammunition with the caution that +P ammunition would accelerate wear.
Finish was satin stainless or bright polish.
Grips were an exact copy of the Pachmayr "Compac" grip that Colt had used for years. These new copies were made by Vintage Industries for Colt, and had a molded-on Colt banner and logo on the lower sides instead of Colt medallions as on the Pachmayr grips.
The DS-II was made from 1997 to 1998.
COLT DS-II WITH 3 INCH BARREL