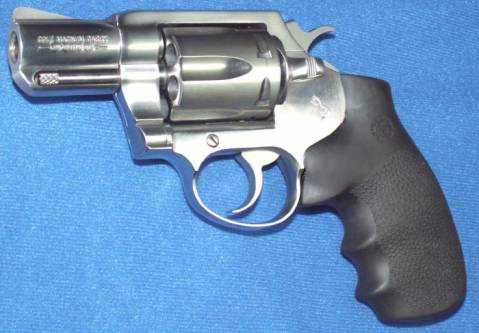 MAGNUM CARRY
"SF" FRAME
In 1999 Colt introduced their last double action revolver model.
This was a version of the SF-VI/DS-II series revolvers built on the "SF-VI" frame.
This was a stainless steel revolver using the same transfer bar safety-ignition system as all Colts made after 1969.
The new model was chambered for the .357 Magnum cartridge, the first small frame Colt ever to use the Magnum round.
The frame was slightly thickened in the top strap area to increase strength and the gun was heat treated to a higher level.
Barrels were 2 inches, and a few 3 inch models.
Finish was satin stainless and possibly a few bright polish models.
The grips were Hogue Mono-Grips made for Colt by Hogue. These have a pebble texture.
The Magnum Carry was made in 1999 only.
In 1999, Colt was in financial difficulty and was forced to discontinue all double action revolvers except the Anaconda and Python.
Due to the short production period and the Magnum chambering, the Magnum Carry is sought after by both collectors and shooters wanting a powerful concealed carry revolver.