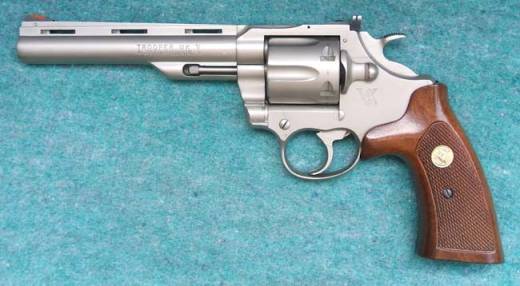 THE TROOPER MARK V
"V" FRAME
Colt had had very successful sales of the Mark III series and in 1982 issued an upgraded version of it as the new "V" frame Mark V series.
The major changes from the Mark III were:
Changed the sintered steel hammer and trigger to cast steel.
Changed the hammer and trigger to Colt's first short action.  This gave a shorter hammer fall.
Changed the mainspring, the mainspring guide and location of the mainspring seat to a longer spring and longer guide.  The new hammer and trigger, the new longer mainspring and the relocated mainspring seat were intended to improve the trigger pull.
Changed the full profile square butt frame to a new rounded profile grip frame.
Grips were changed to a full wrap-around design with a covered back strap.
Changed the barrel to include Python-like vents in the rib.
MODELS
The Mark III series had been made in a number of versions.  With the revolver being replaced by the automatic pistol by many law enforcement agencies and revolver sales falling, Colt discontinued all of the Mark III type versions and only produced a Trooper Mark V and a Lawman Mark V as standard production models.
Trooper Mark V.
This was the premium version, having adjustable sights, Target hammer, Target trigger, and Target grips.
Barrel lengths were 4 inches, 6 inches, and 8 inches with a red front sight insert
Finishes were bright blue, bright nickel, and satin Electroless nickel, also known as "Coltguard".
Caliber was .357 Magnum.
Lawman Mark V.
The Lawman Mark V was a fixed sight Service type revolver.
Barrel lengths were a heavy barrel 4 inch with an exposed ejector rod, and a 2 inch barrel version with a Detective Special-like heavy, shrouded ejector rod barrel.
Caliber was .357 Magnum.
Peacekeeper.
The Peacekeeper was simply the Trooper Mark V with a flat black bead blasted finish.  During the big Colt strike of the mid-1980's Colt didn't have enough experienced polishers to give the entire line the bright blue polished finish, so they offered a limited line of un-polished flat black finished revolvers.
The Peacekeeper had barrels of 4 inches and 6 inches.
Grips were Pachmayr rubber "Gripper" with Gold Colt medallions.
COLT PEACEKEEPER
Flat black unpolished finished.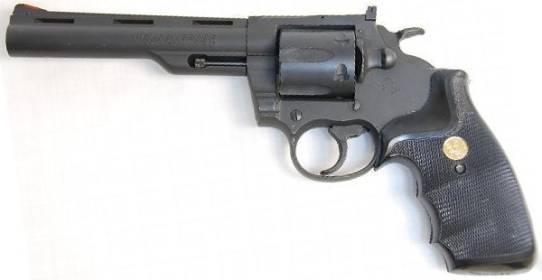 Boa
The Colt Boa was a limited production revolver made exclusively for the Lew Horton distribution company.
The Boa was a Mark V frame fitted with a Python type barrel and with a Royal Blue polished finish.
The barrels were 4 inches and 6 inches with 600 each produced.
The Boa Set was a consecutive numbered set of one 4 inch and one 6 inch Boa in a fitted case.  The case was supplied by Lew Horton.
There were 100 sets made.
THE COLT BOA, MADE ONLY FOR LEW HORTON DISTRIBUTION COMPANY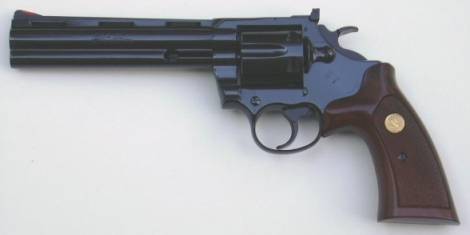 Lawman Air Marshal
The Lawman Air Marshal was an experimental 2 inch barreled design made exclusively for the US Marshal's Air Marshal officers in the 1970's.
This was a Lawman type revolver fitted with a special replaceable plastic cylinder preloaded with plastic bullets for possible use aboard aircraft.
The revolver could not fire standard ammunition, and could only be reloaded by installing another plastic cylinder.
This special model was only produced in small numbers and only for the US Government.
MARK V LAWMAN AIR MARSHAL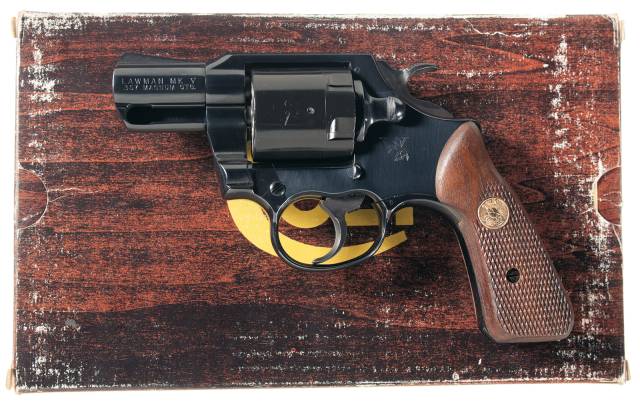 The Colt whitetailer.
This was a matte finish Mark V with an 8 inch barrel, fitted with scope rings and a Burris 2x scope.
It had a parkerized finish.  It was packed in an aluminum hard case.
THE COLT WHITETAILER.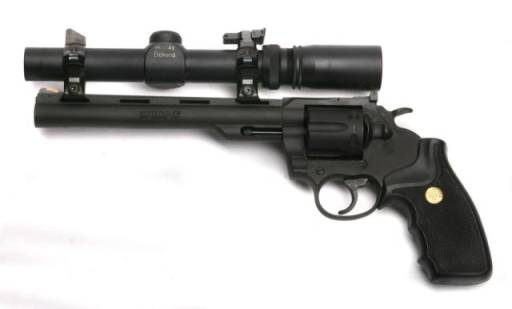 VARIATIONS
Due to the short production life of the Mark V series, there were little variation or changes.
Some Trooper Mark V's had barrels without the vented top rib.
GRIPS
Colt used the same grips on the Trooper Mark V, King Cobra, and Anaconda.
TROOPER MARK V WRAP AROUND TARGET GRIPS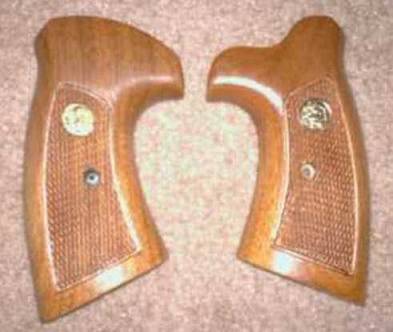 TWO INCH BARREL LAWMAN MARK V
These were unique to the Mark V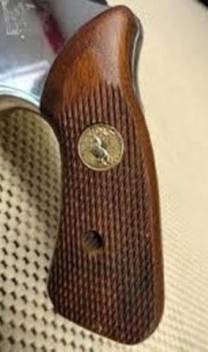 PACHMAYR "GRIPPER" RUBBER
Used on the Peacekeeper