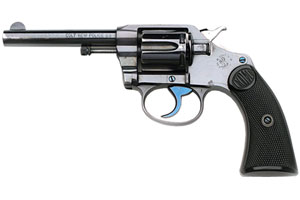 COLT NEW POLICE
MODIFIED NEW POCKET FRAME
The Colt New Police was essentially the same gun as the Colt New Pocket, except with a longer square butt.
The New Police is famous as the gun then New York City Police Commissioner Theodore Roosevelt chose as the first official issue pistol for the NYPD.
It was available in bright blue and bright nickel.
Calibers were the .32 Colt and .32 Colt New Police.
Barrels were 2 1/2", 4", and 6".
Grips were black hard rubber with molded in checkering and Colt logo.
It was produced from 1896 to 1907
The Colt New Police Target was the New Police with a 6" barrel and fitted with target sights. It was the first swing out cylinder target revolver Colt made.
It was produced from 1897 to 1907.
It was chambered in .32 Colt and .32 Colt New Police.