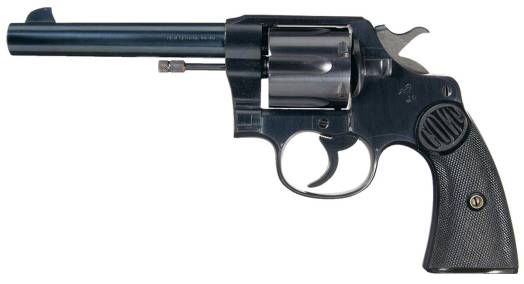 THE COLT NEW SERVICE
In 1898 Colt introduced it's first large frame, swing-out cylinder revolver.  This was the Colt New Service, and would be Colt's large frame revolver until WWII.
The New Service was an immediate hit with military and civilian buyers wanting a large, powerful revolver with the new swing-out cylinder design.
The New Service was extremely popular and large numbers were made.
Over the years the New Service was made in a great many chamberings including the .38 Special, .357 Magnum, .38-40, .44-40, .44 Russian, .44 Special, .45 ACP, .45 Long Colt, .450 Eley, .455 Eley, and .476 Eley.
The New Service was made in a wide variety of versions including official issue US military and foreign military and police models.
The New Service was made from 1898 to 1942.
From 1898 to the late 1920's it had hard black rubber grips with molded in checkering and Colt logos.  After that it came with checkered walnut grips with silver Colt medallions.
It was made in barrel lengths of 4", 4 1/2", 5", 5 1/2", 6", and 7 1/2".
Finishes were blue, bright nickel, and dull brushed blue for military models.
New Service US Army Model 1909.
During the Moro uprising in the Philippines in the 1890's the Colt New Army & Navy revolver in .38 Long Colt failed.  Radical Islamic warriors, often using drugs attacked US soldiers and even though they were shot multiple times with the .38 Long Colt revolvers they would still manage to hack soldiers to death when the rounds failed to stop them.
With the situation critical and all confidence lost in the standard issue .38 Long Colt cartridge, the Army quickly refurbished Colt Single Action Army revolvers, shortened the 7 1/2" barrels to 5 1/2" and rushed them to the Philippines.  There the old .45 Long Colt did the job, convincing the Army that they needed a modern, more powerful service pistol.  This eventually led to the adoption of the Colt Model 1911 .45 Automatic.
However, this left the military without a viable pistol to use until a new pistol could be developed.
US Model 1909
Furnished in Colt's full commercial finish.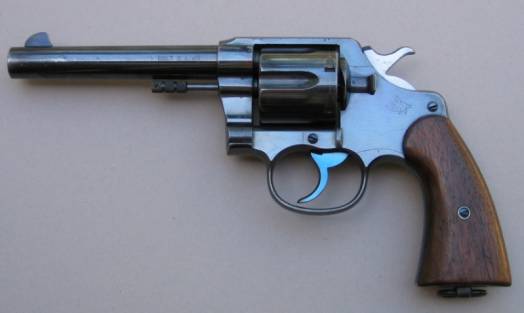 To serve as a fill-in until a new pistol could be developed, the military turned to Colt and simply bought the Colt New Service revolver in .45 Colt.  This was a well-proven pistol and cartridge, and it was a double action.  It was decided that the New Service would be adopted to replace the failed New Army & Navy guns until a new pistol was ready.  Since the New Service was already in mass production, the military simply ordered guns with US military stamps and serial numbers on the butt.
This was the US Model 1909 revolver.
It was a standard type New Service with a 5 1/2" barrel and a bright blue commercial quality finish.
The butt was fitted with a lanyard loop and was stamped with US stamps and serial numbers.
It was marked with US Army, US Navy, and US Marine stamps.
The New Service US Army Model 1917.
When the US entered World War One, General Pershing wanted to have every US combat soldier armed with a pistol.  However, there weren't enough Model 1911 pistols to go around, and not enough could be made fast enough.
To increase the number of pistols for use, the government contracted with Colt and S&W to produce large frame double action revolvers chambered for the standard issue .45 Automatic cartridge.  Both of these were designated Model 1917 Revolvers.
Since the .45ACP was a rimless cartridge, a revolver was unable to eject fired cases.  To allow the use of the .45ACP, stamped steel "half moon" clip devices were developed.  Each of these flat clips would hold three rounds and allow the double action revolver ejector to eject the fired cases.
To load the revolver two of the clips, each holding three rounds were dropped into the cylinder.  Once fired, the cylinder was opened and the ejector rod pushed, ejecting all six cases and the clips.
Colt built their Model 1917 on the large New Service frame.
It was a standard New Service with a 5 1/2" barrel and a dull brushed blue finish.  The early version had chambers that were bored straight through and these couldn't be fired without the flat clips since the cartridge case would fall into the chamber too far.  Later production guns had chambers cut to allow the cartridges to head space in the chamber and these could be fired by loading individual cartridges without the clips, but the gun couldn't eject them.  To eject a stick or rod was needed to push each case out.
The Model 1917 had two serial numbers.  The official US Military serial number was stamped on the butt, but Colt also stamped a Colt factory serial number on the frame below the barrel where the cylinder crane seats, on the cylinder crane, and inside the side plate.
This causes some argument among collectors about which number is the "Real" number.
The government used the butt number as the serial number and when the Model 1917 was sold as surplus in the 1960's, the butt serial number was on the government paper work.
The Model 1917 was made from 1917 into 1919.
When the War ended the Model 1917 was put into storage for possible future use.
In the 1930's there was a rash of robberies of US Post Offices, so the government took quantities of Model 1917 revolvers out of storage and gave them to the Post Office.  Most of these guns sat in Post Master safes until they were sold as surplus in the 1960's.
During World War Two, there was again a shortage of pistols, so Model 1917 revolvers were taken out of storage and refurbished and rebuilt where needed.  These were usually given a parkerized finish.
These 1917 revolvers were issued to anyone needing a pistol, including some combat troops, MP's, and others.
After the war they were again stored away until they were declared surplus in the 1960's and sold, often to National Rifle Association members through the Director of Civilian Marksmanship Program.
COLT US MODEL 1917, 45ACP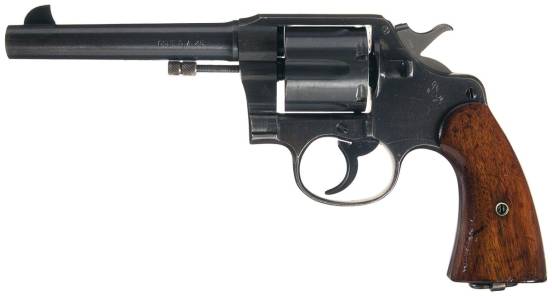 The New Service Commercial Model 1917
These guns had checkered walnut grips with silver medallions, and with the barrel marked "Colt Model 1917 Auto Ctge".
There were about 1,000 made during 1932.
These had 5 1/2" barrels and were in .45ACP.
The last patent date on the barrels was October 5, 1926
The New Service Commercial Model 1917 parts model.
Following World War One, Colt had quantities of left over parts for the Model 1917 so they made a limited run of commercial models of it using those parts
These were made in .38-40 WCF, .44-40 WCF, or .45 Long Colt.
These were available with 4 1/2" or 5 1/2" barrels.
Grips were hard black rubber or checkered walnut with silver medallions.
The last patent date on these barrels was July 4, 1905
There were about 1,000 made.
New Service Target
This was a target version of the New Service, available from 1900 to 1940.
It had a flat top frame and adjustable front and rear target sights.
It was available with a 6" (rare) or 7 1/2" barrel.
It was made in bright blue or (rare) bright nickel.
A round butt version was available after 1930.
Grips were black hard rubber until 1913 and checkered walnut with silver medallions after that.
The trigger and back strap were checkered.
Calibers offered were .44 Special, .44 Russian, .45 Long Colt, and .45ACP.
New Service Shooting Master
The Shooting Master was a high grade Target version of the New Service.
It was fitted with a flat top frame, adjustable target front and rear sights, a checkered trigger, and back strap.
It was available with a rounded butt or a square butt after 1933.
Barrel length was 6" and the grips were checkered walnut with silver medallions.
Calibers available were .38 Special, .357 Magnum, .44 Special, .45 Colt, and .45ACP.
It was made from 1932 to about 1940.
THE COLT NEW SERVICE SHOOTING MASTER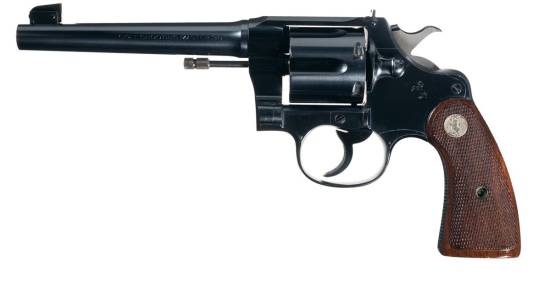 New Service Royal North West Mounted Police-Royal Canadian Mounted Police. (Mountie)
These were ordered by the Canadian Mounties for use as their standard service pistol.
These were made in .45 Long Colt and .455 Eley.
Finish was blue.
New Service British and Canadian military contract.
During World War One the British and Canadian government ordered approximately 60,000 New Service revolvers for use by ground troops and the Royal Flying Corps.
These were adopted as a limited standard issue model.
These were usually in .455 Eley for British use and .45 Long Colt for Canadian.
Prior to the war, many British officers bought commercial New Service revolvers instead of the British standard Webley revolver so choosing the New Service during the war was a natural choice.
New Service "Fitz" custom.
During the 1920's and 30's John Henry "Fitz" Fitzgerald was a Colt company representative who offered custom built firearms made to his idea of what a defense gun should be.
The revolvers featured hammer spurs removed and the top of the hammer checkered so it could still be cocked, rounded butts, and the front portion of the trigger guard cut away leaving only the rear portion.
Fitzgerald's personal guns were a pair of New Service models in .45 Long Colt with 2" barrels.  Fitz carried these in his front pants pockets.
It's believed that less than 30 Fitz New Service models were made at Colt, either by Fitz himself or by Colt personnel.