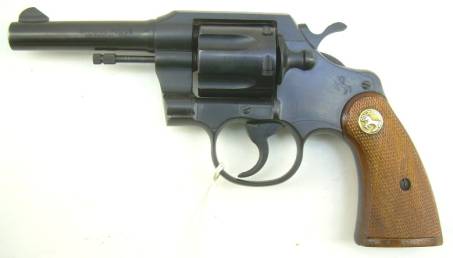 COLT OFFICIAL POLICE, POST-WAR
"E" FRAME
In 1927 Colt decided to rename the Army Special to more reflect the actual buyers of the gun, so the Army Special name was changed to the Official Police.
That was just what the gun was, THE official police issue revolver for a great many police departments like the New York City Police, Boston Police, and Federal agencies like the FBI and Treasury Department.
The Official Police would serve as a prime police issue gun into the 1960s, and was highly favored by private guard services, industrial plant guards, and civilian gun owners wanting a powerful and strong revolver.
As a popular Colt model, Colt offered a number of variations of the gun.
Finishes were blue and bright nickel.
Barrel lengths were 2", 4", 5" and 6".
Calibers offered were .22LR, .32-20, 38-200 British (.38 S&W), .38 Special, and .41 Long Colt.
The butt was square with optional rounded butts offered.
Heavy barrel versions were made, usually in 6".
Grips were checkered walnut with silver Colt medallions until 1947 when "Coltwood" plastic with silver colored molded in medallions were used until 1954 when checkered walnut again made standard.
The Official Police was produced from 1927 to 1969.
The Official Police Pre-war.
Made from 1927 to 1946.
The pre-war models had the rounded "half moon" front sight, checkered trigger, hammer, and cylinder release, and the old style cylinder retention system.
OFFICIAL POLICE, PRE-WAR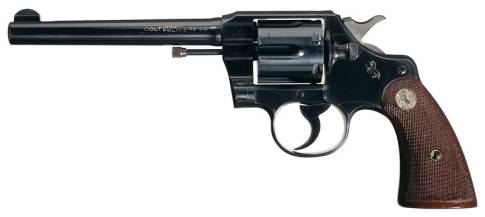 The Official Police Post-war.
Made from 1947 to 1969.
The post-war version had a ramped and serrated front sight, a new shaped hammer with grooves, and the new cylinder retention system.
It was available in .22LR, and .38 Special.
OFFICIAL POLICE POST-WAR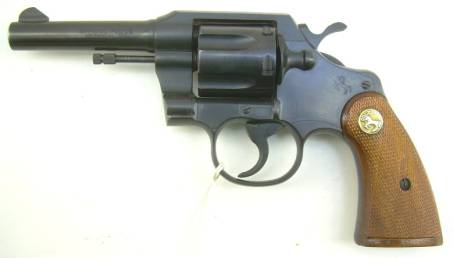 Variations.
Colt made several variations of the Official Police.  These are covered in detail in their respective sections.
Colt Commando.
During World War Two Colt made the Commando version with a parkerized finish and plastic "Coltwood" grips for the US government.
These guns were for defense plant guards, police departments, and some military use.
The Commando usually had a US "Flaming Bomb" stamp on the left side of the frame.
Colt Border Patrol, First Issue.
In 1954 Colt made a special order run of 400 Official Police revolvers with very heavy 4" barrels for the US Border Patrol.
These guns are barrel marked "Border Patrol".
The Marshall.
The Marshall was nothing more than an Official Police with a 4" barrel and a round butt.
About 2,500 were made from 1954 to 1956.
The Official Police Mark III.
After the older style Colt revolvers were discontinued in 1969 Colt introduced a new series of revolvers using the new "J" frame transfer bar safety-ignition system.
The new Mark III version of the Official Police used the same "skinny" barrel of the older Official Police, only with a new larger ramped front sight.
It was available only in .38 Special.